Play with PGA Tour Radio's Best On-Air Personalities
John Maginnes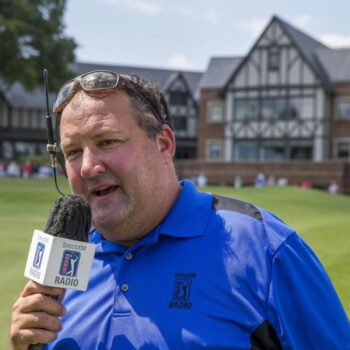 John Maginnes is a former PGA Tour player who spent more than a decade and a half playing professional golf. While recovering from elbow surgery in 2004 John was offered an opportunity as an on course commentator by USA Network who covered Thursday and Friday rounds on the PGA Tour. With the microphone in hand John found his second passion.
Brian Katrek
Brian Katrek is an Emmy award winning broadcaster and is addicted to golf. He has hosted television, interactive, and radio play by play coverage of golf tournaments since 1999. The list includes all 4 major championships and both the Ryder Cup and Presidents Cup multiple years. In January of 2014, Katrek joined forces with his long time radio play by play partner, PGA Tour veteran John Maginnes.
Carl Paulson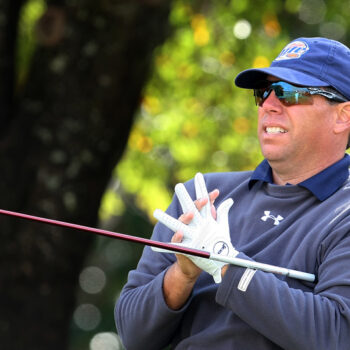 After Carl's PGA Tour career came to a close, he joined SiriusXM in 2013 to announce live PGA Tour golf for PGA Tour Radio. Carl's playing experiences and his time spent behind the microphone calling virtually every event on the PGA TOUR led to a new venture with a hosted Radio Show, "INSIDE THE ROPES" with Carl and Dennis Paulson.
2024 Listeners Cup Event Details
Date: May 19 – 22, 2024 (Sunday – Wednesday)
Location: French Lick Resort in French Lick, Indiana
About: The Listeners Cup is a 3-day golf competition consisting of 3 teams. Each of the 3 teams are captained by: John Maginnes, Brian Katrek and Carl Paulson.
Format: Full Handicap
Round 1 – Four-Ball (2 person team vs. 2 person team (Best Ball)
Round 2 – Four-Ball (2 person team vs. 2 person team (Best Ball)
Round 3 – Singles (individual matches)
Field:  Field is limited and is open to both men and women.  Early registration for this event is highly recommended!
Home of two AAA Four-Diamond Nationally historic hotels
51,000 sq. ft. Las Vegas Style Casino (which has all of the table games – including poker!)
Disclaimer: Must be 21 years or older to enter the casino. Gambling Problem? Call 1.800.9.WITH.IT!

Pete Dye Course – Rated #1 in Indiana
Hosting the Senior LPGA Championship (August)
Hosted the National Club Professional Championship
Won the 2017 National Golf Course of the Year Award
Hosted Senior PGA Championship

Donald Ross Course – Rated #2 in Indiana
Ranked 83rd best Public course in the US (Golf Digest)
Pricing with Lodging at French Lick Resort Hotel:
Double Occupancy (2 players): $1850 per player
Single Occupancy: $2195
Single with Guest: $2395
Additional Nights: $275 per night
Pricing with Lodging at West Baden Springs Hotel:
Double Occupancy (2 players): $2295 per player
Single Occupancy: $2895
Single with Guest: $3095
Additional Nights: $475 per night
Golf on the Dye Course: Participants responsible for Forecaddie Gratuity – Minimum: $40 per player
Entry Fee Includes:
3 nights accommodations
4 rounds of Golf (2 rounds on Dye Course and 1 round on Ross course with optional 2nd round on Ross course)
Breakfast on Tournament Days
Boxed Lunches on Tournament Days
Sunday – Opening Cocktail Reception & Hors d'oeuvres and Team Pairings
Daily "Live Broadcasts"
Tuesday Reception, Broadcast & Q&A with Brian Katrek, John Maginnes & Carl Paulson
Tee Gifts
Checks should be made out to Fleming Golf Events, and mailed to: PO Box 7882, Hilton Head Island, SC 29938

To enter by credit card or receive more information, email: Barry Fleming: bfleminggolf@gmail.com or call: (843) 384-5342
Sunday, May 19, 2024
Participants check-in at the French Lick Springs Hotel or West Baden Springs Hotel
12:00 pm – 4:00 pm – Participants enjoy practicing at Dye Course range/short game area
Time: 5:00 pm – 7:00 pm – Pete Dye Pavilion – Welcoming Cocktail/Team Draw Party & Hors D'oeuvres
Monday, May 20, 2024
7:00 am – Breakfast – Colonnade Dining Room
10:36 am – 12:00 pm – Round 1: Listener's Cup – Dye Course – Box Lunches will be distributed
10:00 am – 12:00 pm – "Inside the Ropes" show starring Carl & Dennis Paulson (Dye Pavilion)
4:00 pm – 6:00 pm – "Katrek & Maginnes on Tap" show starring Brian Katrek & John Maginnes (Dye Pavilion)
Tuesday, May 21, 2024
7:00 am – Breakfast – Colonnade Dining Room
10:36 am – 12:00 pm – Round 2: Listener's Cup – Dye Course – Box Lunches will be distributed
10:00 am – 12:00 pm – "Inside the Ropes" show starring Carl & Dennis Paulson (Dye Pavilion)
4:00 pm – 5:00 pm – Bonus Round – Donald Ross Course – tee times for anyone wanting to play additional holes
4:00 pm – 6:00 pm – "Katrek & Maginnes on Tap" show starring Brian Katrek & John Maginnes
Wednesday, May 22, 2024
7:00 am – Breakfast – Donald Ross Course
7:27 am – 9:00 am – Round 3: Listener's Cup – Donald Ross Course
Lunch & Awards Presentation following round
Participants Depart
For more information or to Reserve Your Spot in the Event –  please contact: Barry Fleming: bfleminggolf@gmail.com or call (843) 384-5342